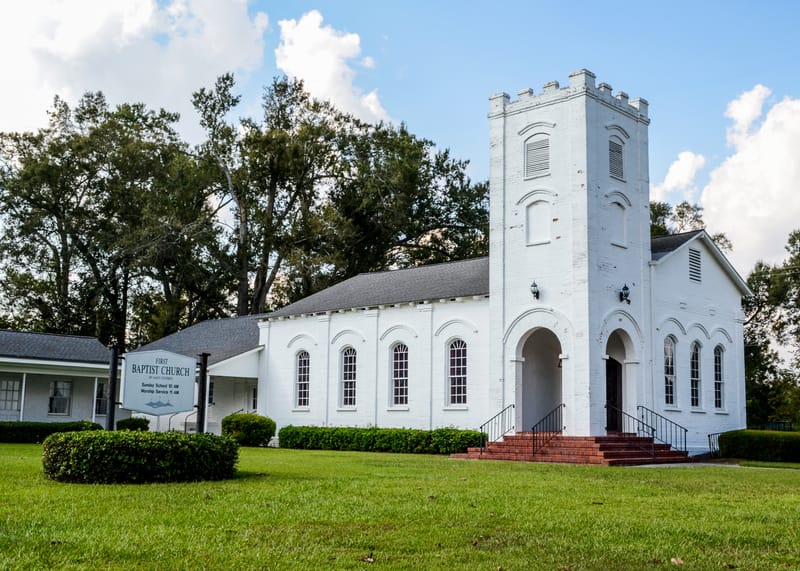 St. Stephen Baptist Church was organized in August 1849, with fifteen members. They met in a small frame building about two miles from the present location. The church was admitted into the Charlestown Association the next year and grew to a membership of thirty-four.
From 1860 to 1868, it may be presumed that church services were discontinued because of the war. In 1868, the church reported to the Association that they suffered the loss of many members due to the war, and that those who remained were in reduced circumstances.
In the years following the war, the church had times of struggle and times of great spiritual revival and blessing. Many age appropriate programs were organized and added to the church for the edifying of believers including a Sunday School program.
In 1882 the first church building was built, but was destroyed by fire in 1912. A new brick and mortar building was erected which is still in use today and is considered an historical building. In 1928 a church parsonage was built.
On August 28, 1949, the church celebrated its centennial with daylong services. An historical pageant was presented giving a history of the church from it's beginning to the date of the pageant.
Over the coming years, the church completed several building programs and/or renovations. In time, an educational building was added and new furniture installed. Several years later, the church building was remodeled and property was purchased to build a new parsonage away from the church grounds. Later, a Family Life Center was built and was dedicated in a candlelight service.
In 1968 the name of the church was changed to First Baptist Church of St. Stephen.
In 1999 First Baptist Church of St. Stephen celebrated their sesquicentennial - 150 years of Proclaiming Christ from 1849 until 1999. It was a great day of celebration for the members and community.
Pastors who have served First Baptist Church include: D. M. Baker, D. M. Breader, J. L. Rallings, D. N. Gore, D. O. Rivers, W. Edgar West, Shelton Jones, J. Bright Powers, George Sage, James Browder, Michael Brandy, James Holcombe, Broadus Heatherly, Robert Dukes, Timothy Morris, Jake J. Thornhill, Jr., Dennis Glover, Ed Edgerton, T. W. McGruffin, Wilton Gleaton, Don Sadler. Those who have served as Interim Pastors include: Harold Williams, Paul Pridgeon, Emmitt Browder, David Brien.
Presently serving as pastor is Reverend Jim Melton, having been called by the church in March 2014. Pastor Jim and his wife Barbara have three children and five grandchildren.